SUP on Webb Lake, Wisconsin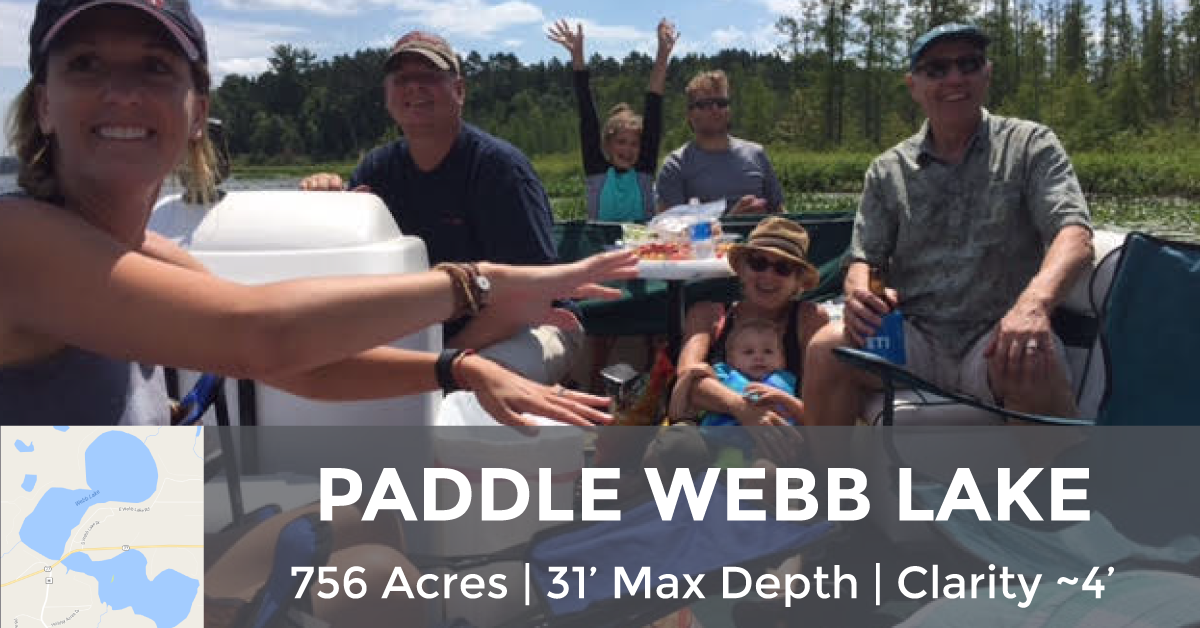 The facts: 756 acres, Max Depth: 31', Clarity: ~4'
Getting on the water:
Webb Lake is just east of Hinkley, about 2 hours drive from the Twin Cities. It's in the heart of Wisconsin cabin country and was a great spot for our family reunion! My cousins own a cabin on the east side of the lake, we stayed in a cabin on the west side and more cousins filled a cabin on the south portion of Webb. It had fantastic water access and the weather really cooperated with us, sun and blue skies all weekend. Loons and bald eagles were all over the lake, really quite part of the country that allowed us to unwind a bit.
We brought up the Paul Bunyan and the Portager (our soon to be released inflatable board!) from the Paddle North fleet. We each took turns bombing around the lake. 
The paddle: 
Paddling the lake was really smooth, the water was much higher then normal and not very clear. Wind was a factor on Saturday, but really died down in the evening. My mom and I paddled were able to paddle from the south western side of the lake to the north eastern side of the lake in about 20 minutes.  
I was able to get my 2 year old son, Ty, back out on the water. He loved it!
 12 year old Lillian did some yoga. 
We took a pontoon from the northern portion of the lake to my uncles cabin on the south side. We had to duck under the bridge, since the water was so high, we barely fit under.
Stand with us:
At Paddle North, we offer free demos of our boards -- on any lake in the Twin Cities! If you want to try out a paddle board on Webb Lake, or a lake near you, give us a call 612-978-5992 or email at peter@paddlenorth.com.