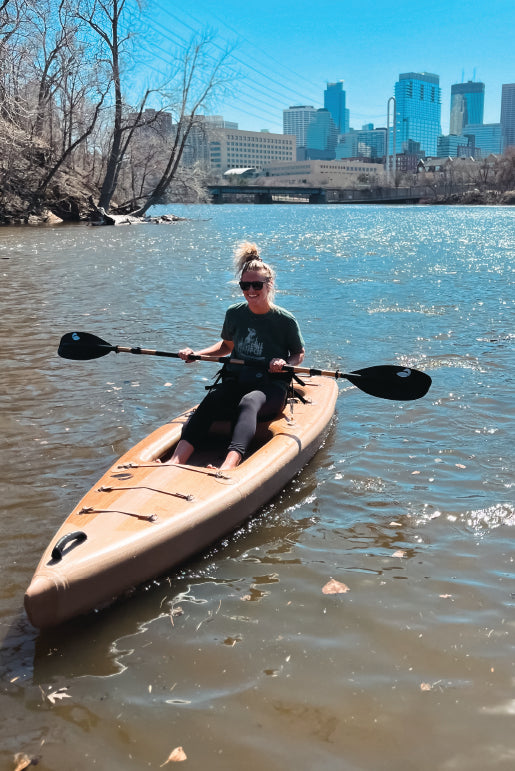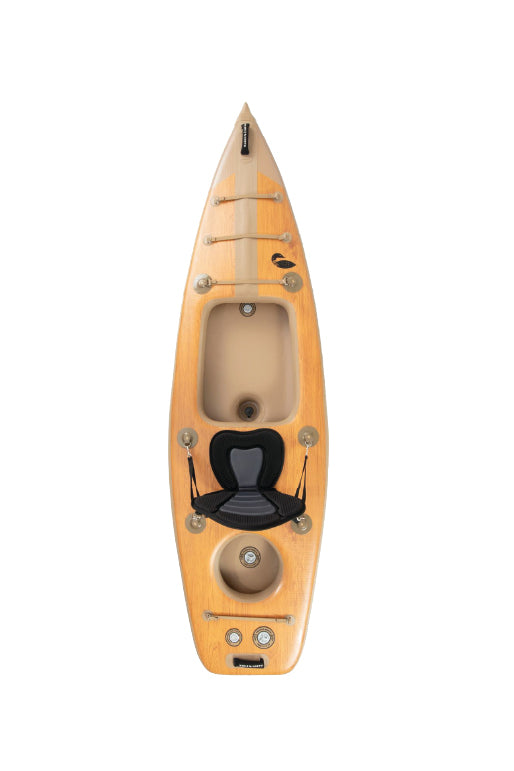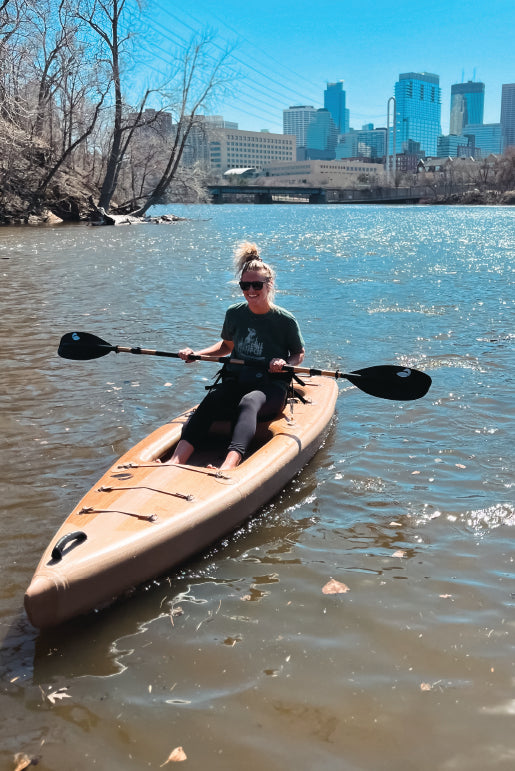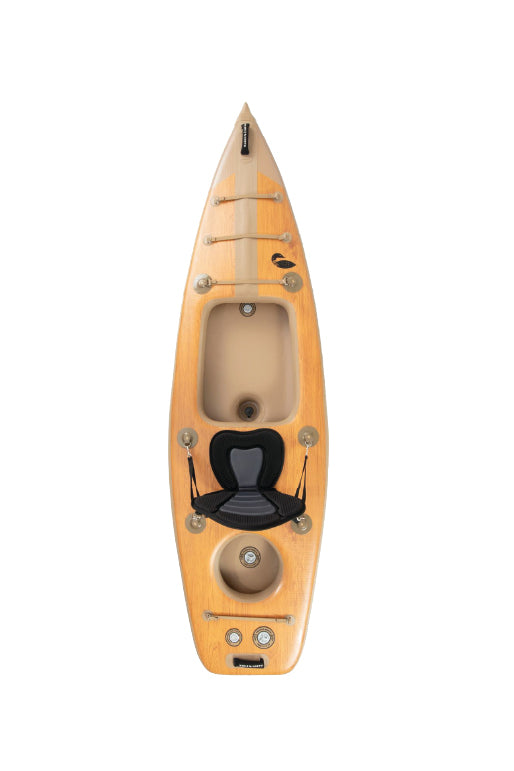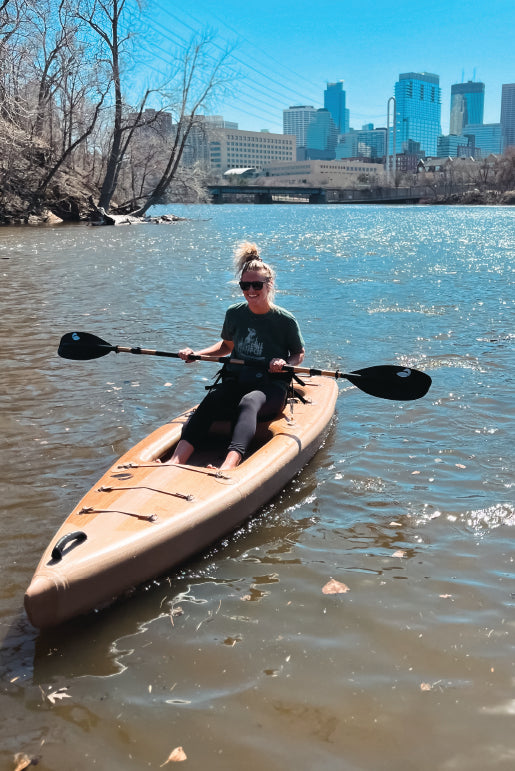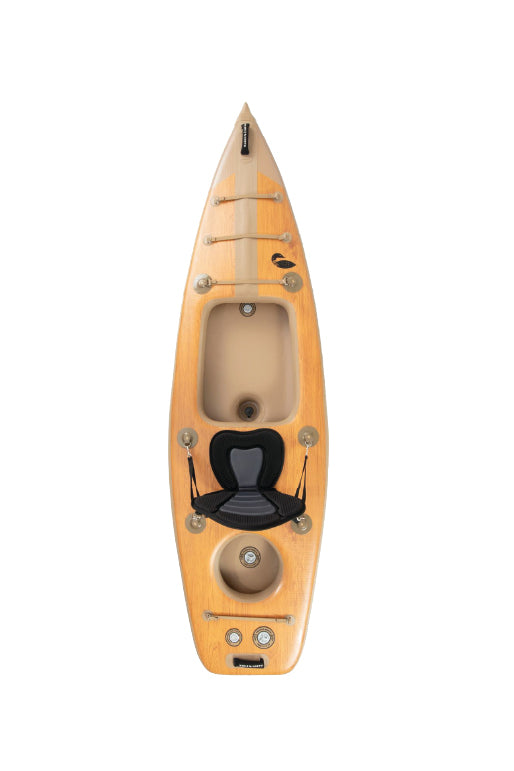 Karve Kayak
Karve Kayak
We've spent over 7 years perfecting the Karve Kayak's shape and unique features. The Karve Kayak is the third iteration of the Karve and boasts tons of new features. It is the biggest leap forward yet.

The Karve is now offered in two new sizes: 9'11" and the 12'. The 9'11'' is the traditional Karve solo and slides under the registration size requirement for many states (including Minnesota). It maintains Paddle North's high standard for performance and tracking through its unique V-funnel underside, channeling water to the 10" long fin. It's great for fishing, recreational paddling, exercise, and exploring. Bring a dog or fishing gear and then go with its collapsible design and included roller bag.
9'11'' Karve Dimensions: 9'11'' x 33'' x 17'', 31 lbs to carry, 300 lb capacity.
Constructed from 1.2mm thick drop-stitch PVC, the same proven material that our Portager and Sport Utility Dock are constructed from.
The Karve's dual air chamber design revolves around our four primary paddle principles:
Tracking:  Tracking is the holy grail of paddling and is the primary focus of the Karve. From its aggressive displacement hull shape to the 12'' removable fin - this kayak tracks extremely straight.
Balance: Well balanced to handle extreme water resistance.
Durability: The kayak is inflatable, but doesn't feel like it. It's extremely rigid and forgiving on the water. Backed by our full 4-year warranty.
Lightweight:  For this size of kayak, it is extremely light.
Features:
Pressure Regulators: Inflatables without pressure regulators risk seam failure in heat. The Karve Kayak has two auto relief valves that trigger if the kayak ever exceeds 15 PSI.
V-Funnel: Channels water below the board to the fin, improving tracking and stability.
Drain Valve: Remove water accumulation with a floor drain valve.
NEW! Universal mounts are standard on every Karve. Connect rod holders, bait trays, cup holders, and camera mounts.

NEW! GripTrack RAIL and TAILS to increase durability.
NEW! Elevated Seats: Sit higher on the water in a more comfortable kayaking position.
NEW! Storage hole for dry packs, coolers, and tackle.
NEW! New natural monochrome color scheme: sand & wood.
Go further with Paddle North Challenges & the included All Terrain transport bag.
Shape: Swede Form, where the kayak is widest behind the seat area. This form allows for very efficient movement through the water, improving speed and maneuverability. This shape highlights acceleration and tracking. Because of the narrow bow, the Karve Kayak punches through a steep wave rather than riding over it. The wider than normal width (33''), combined with the buoyancy of the inflation, provides unmatched balance and stabilization.

Package Includes:
x1 Kayak Seat
x1 Detachable Fin
x1 All Terrain Carry Bag
x1 Manual Pump
x1 Aluminum Kayak Paddle
x1 Karve Kayak
4-Year Manufacturer's Warranty: Included with your purchase is a guarantee for this product against any defect in materials and workmanship for 4 years.
Industry Best Accident Protection: Upgrade your warranty with 4 years of accidental damage protection. Learn more here.