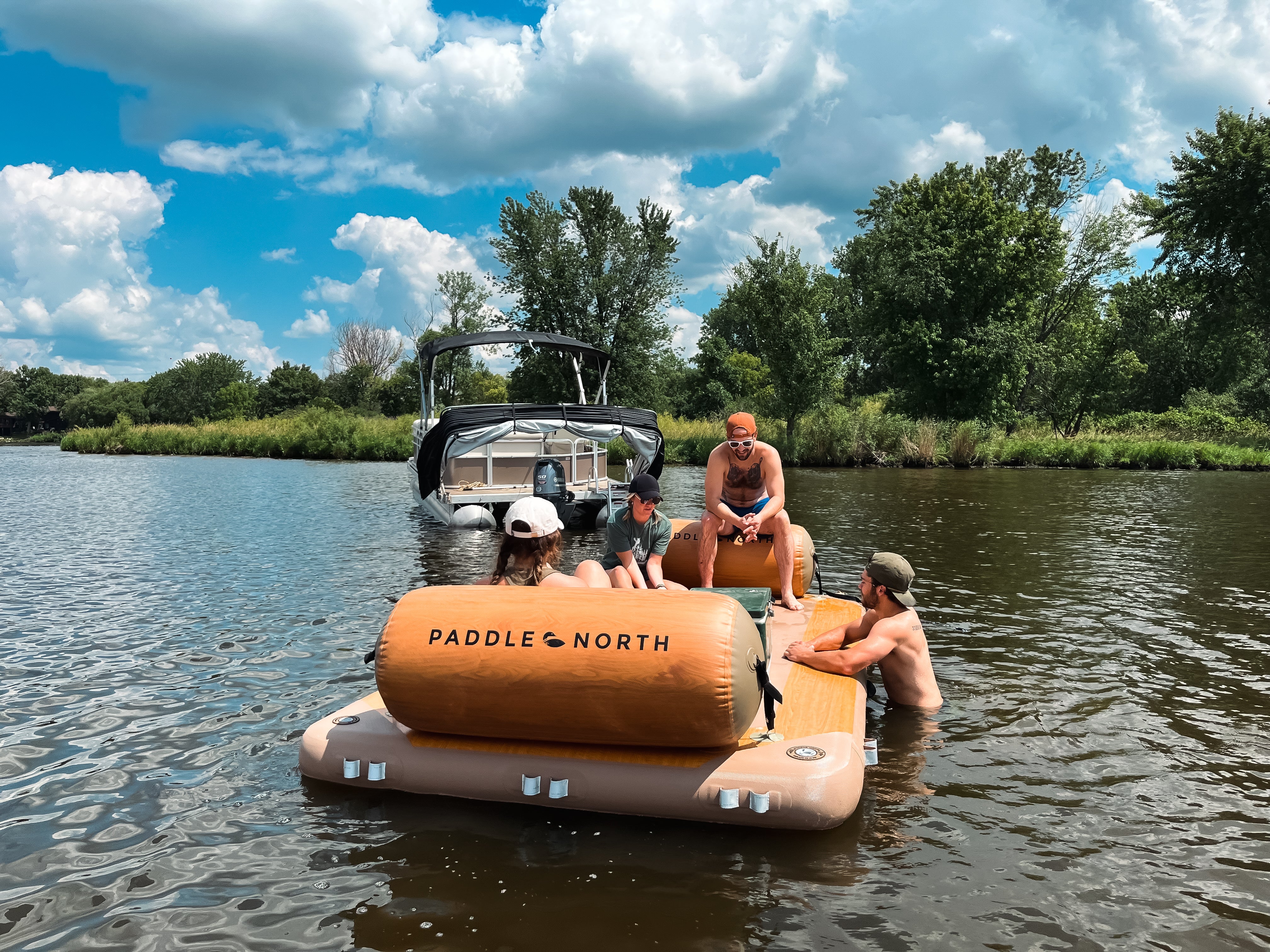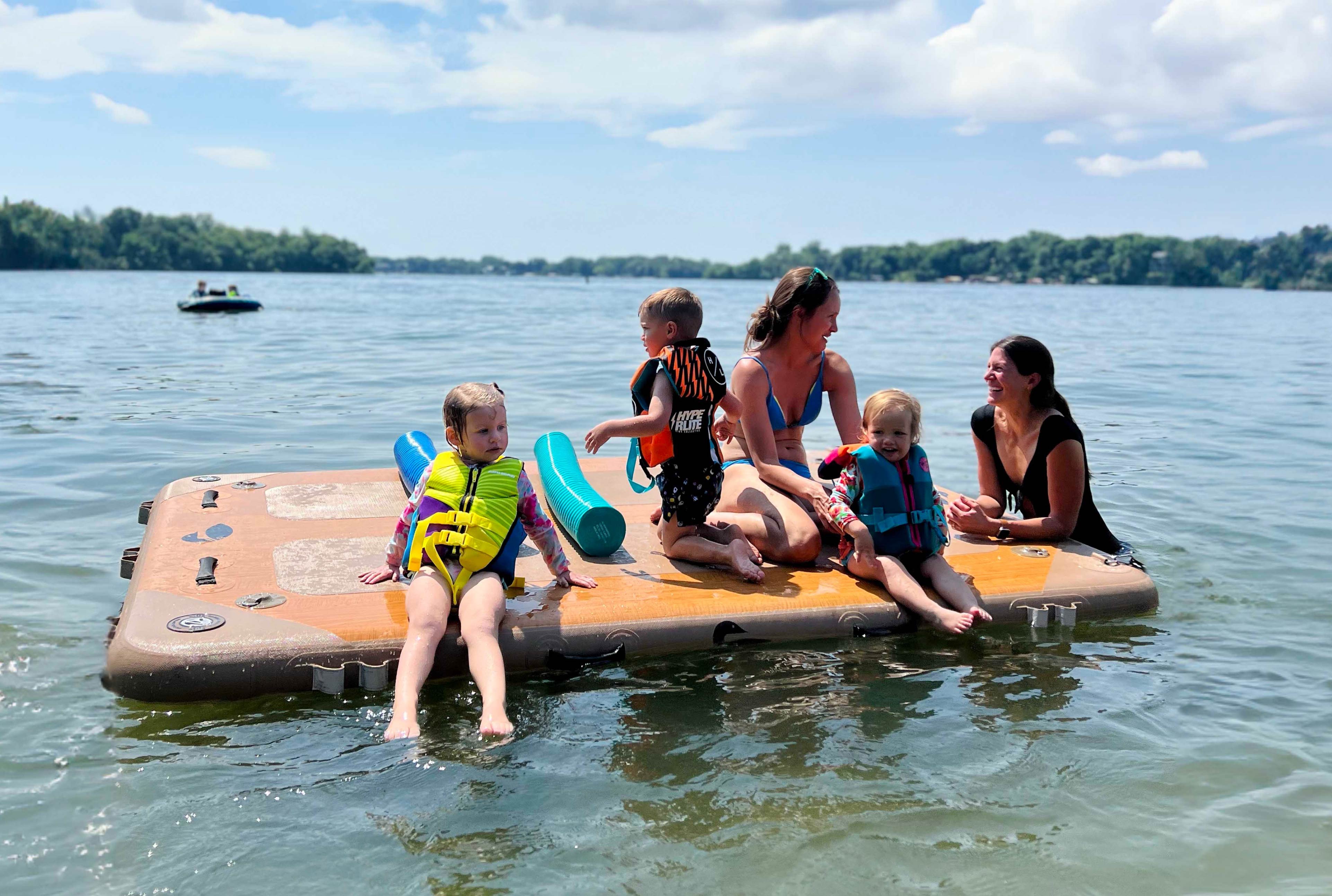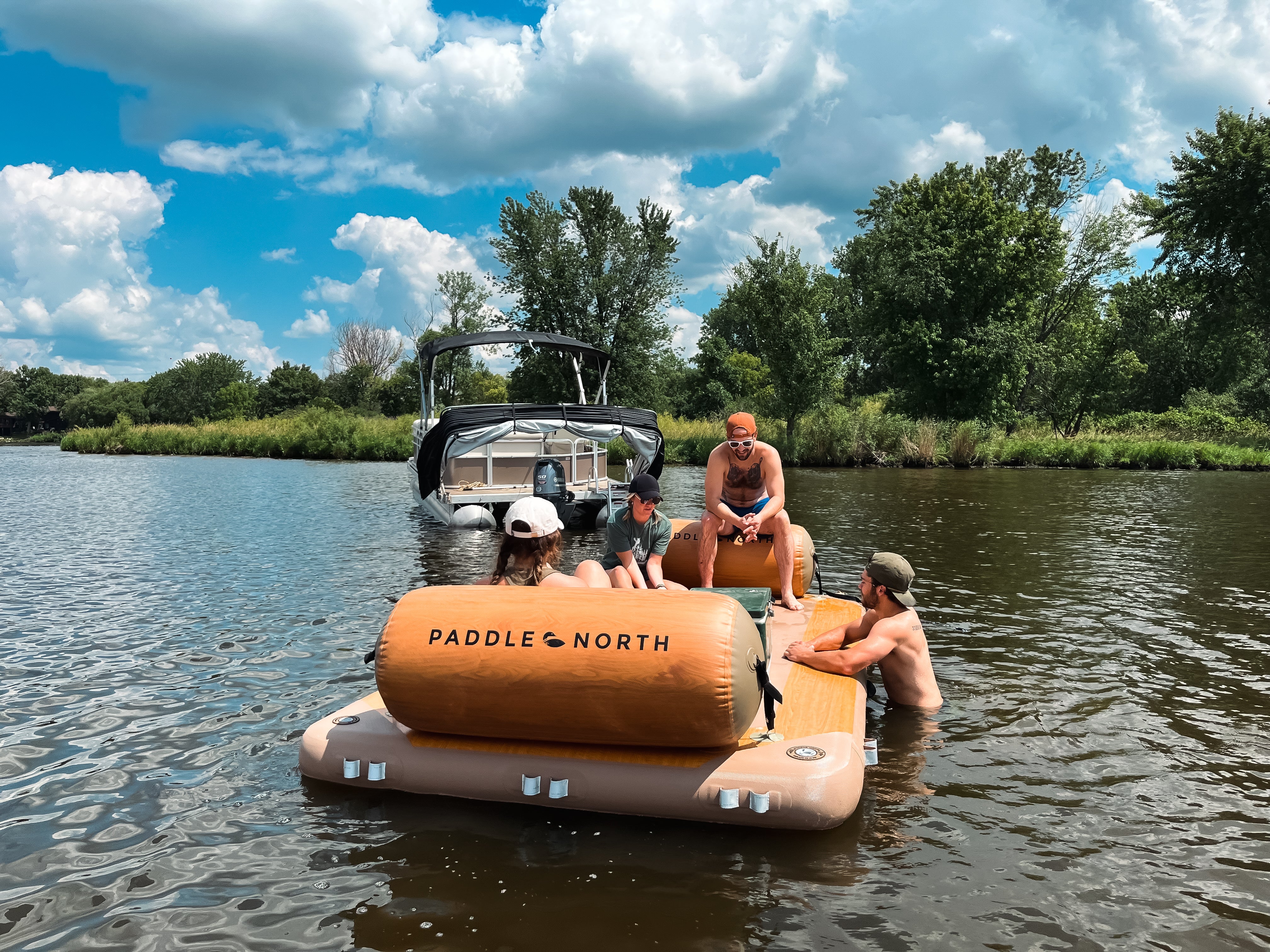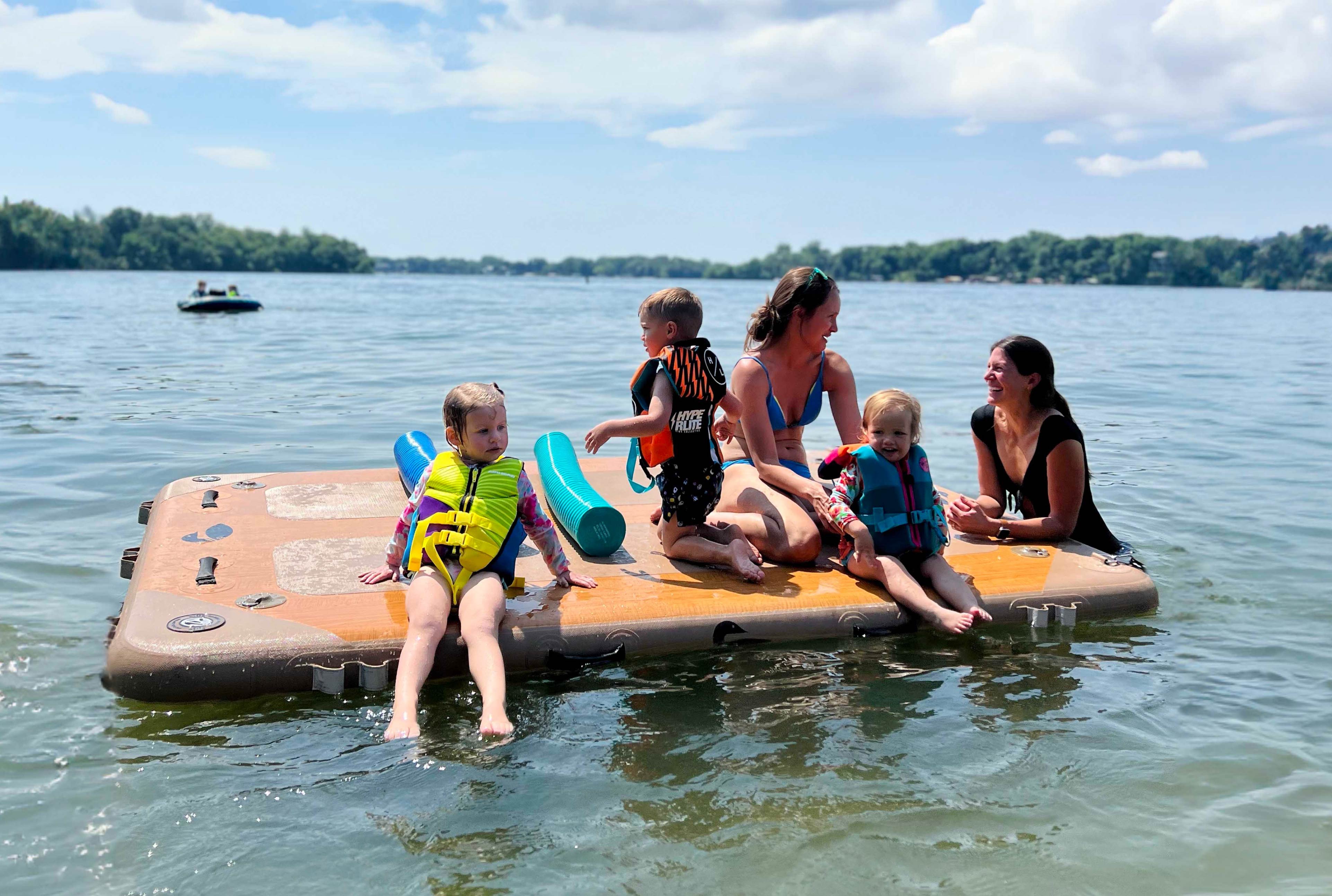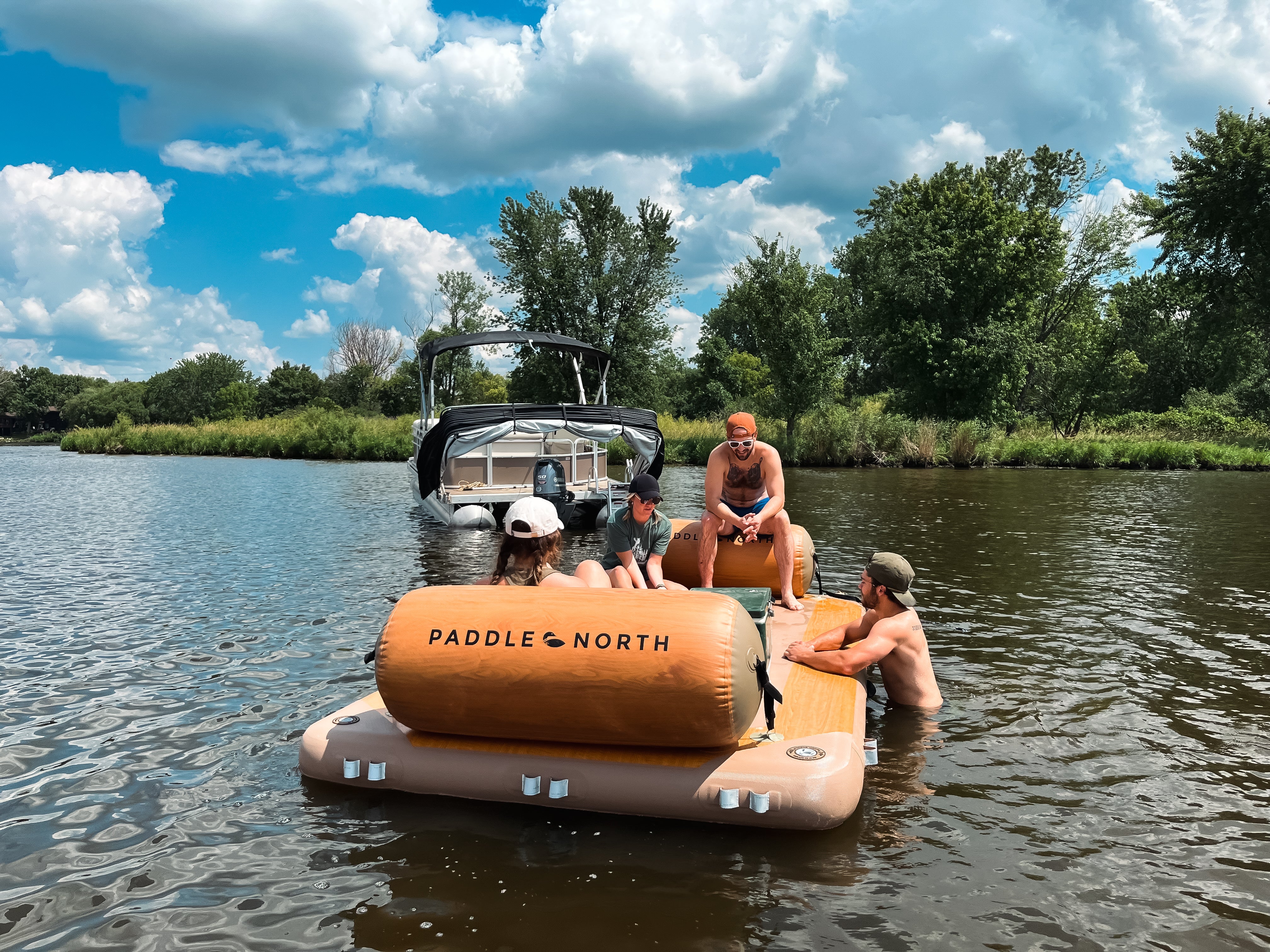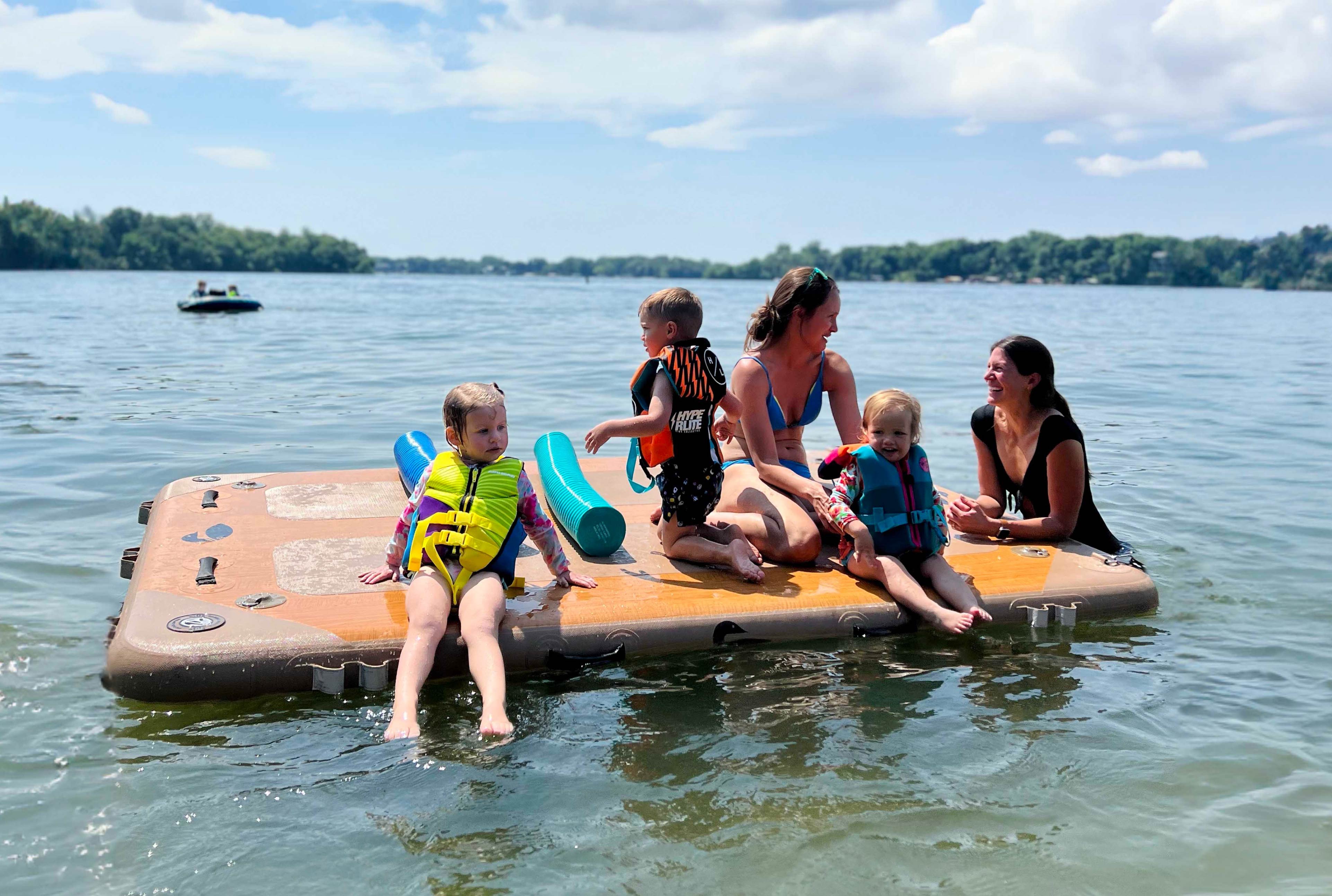 Utility Dock Loaded

This is not your typical inflatable. We've loaded our popular inflatable swim platform, the Utility Dock, with additional features to give it even more utility.
What's New?
GripTrack PVC: Enhanced traction when wet for improved safety. Backside is still bare-PVC for slipping and sliding.

GlideRail PVC: Reinforced side rails for increased durability.
Universal Action Mounts: Four included mounts to attach accessories like cup holders, rod holders, bait trays, camera mounts, and more.
High-Vis Reflectors: Improved visibility during nighttime use.
Larger D-Rings: Enhanced strength and towing capability.
Eight Grip Handles: Easy transport and water access.
MOLLE Anchoring Points: Added versatility with anchoring points along each side.
Introducing the Utility Dock Loaded—a robust and rigid platform ready to conquer any body of water. Designed to provide endless fun for you, your family, and even your furry friend, it offers a multitude of possibilities.
Swim Raft: Anchor it on the lake for a season-long swim raft experience.
Sun Deck: Tow it behind your boat and enjoy it as a sun deck at the sand bar.
Dock Extension: Connect it to your dock to create a user-friendly launch point for kayaks, paddle boards, or jet skis.
Water Patio: Set it up as a floating patio to relax, sunbathe, fish, practice yoga, or have a leisurely lunch.
Floating Social Space: Transform it into a waist-deep water gathering spot for card games, happy hours, fish stories, and more.
Slip-and-Slide: Flip it over, add soap, and enjoy an exhilarating slip-and-slide experience.
Workstation: Utilize it for boat washing, engine maintenance, or as a stable platform for your boat lift.
Utility Docks come with a 30-day money-back trial period and a 4-year manufacturer's warranty, demonstrating our team's commitment to your satisfaction.
Available in Two Sizes:
9' x 6' (6" thick), 40lbs - great for 4-6 adults or 5-10 kids.

12' x 6' (8" thick), 60lbs - great for 6 - 10 adults or 10+ kids.

Notable Features:
Extreme Rigidity and Buoyancy: Constructed from 1.2mm drop-stitch PVC, offering exceptional rigidity and buoyancy in 6" or 8" thickness.
Compact Storage: Occupies only 1/4 of the space compared to other foam mats on the market.
No Over-Inflation: Equipped with a regulator valve to prevent over-inflation, particularly crucial in warm weather conditions.
Universal Valve: Halkey-Roberts valves allow easy inflation using any air compressor or heavy-duty electric pump with a compatible fitting or adapter. The self-sealing feature ensures no air loss during closure.
Up to 15 PSI Strength: Seam joints designed with a unique 3-layer system to withstand up to 15 PSI, providing exceptional stability without bending or sagging.
Multiple Anchoring Points: Conveniently located on the sides with MOLLE anchoring points for easy access and secure overnight storage on the water.
Package Includes:
Utility Dock Loaded or Utility Dock Loaded XL (1 unit)
Repair Kit (1 unit)

User Manual (1 unit)
4-Year Manufacturer's Warranty: Your purchase includes a comprehensive 4-year warranty covering any defects in materials and workmanship.
Industry Best Accident Protection: Enhance your warranty with 4 years of coverage against accidental damages. Learn more here.