SUP on Weaver Lake, Maple Grove MN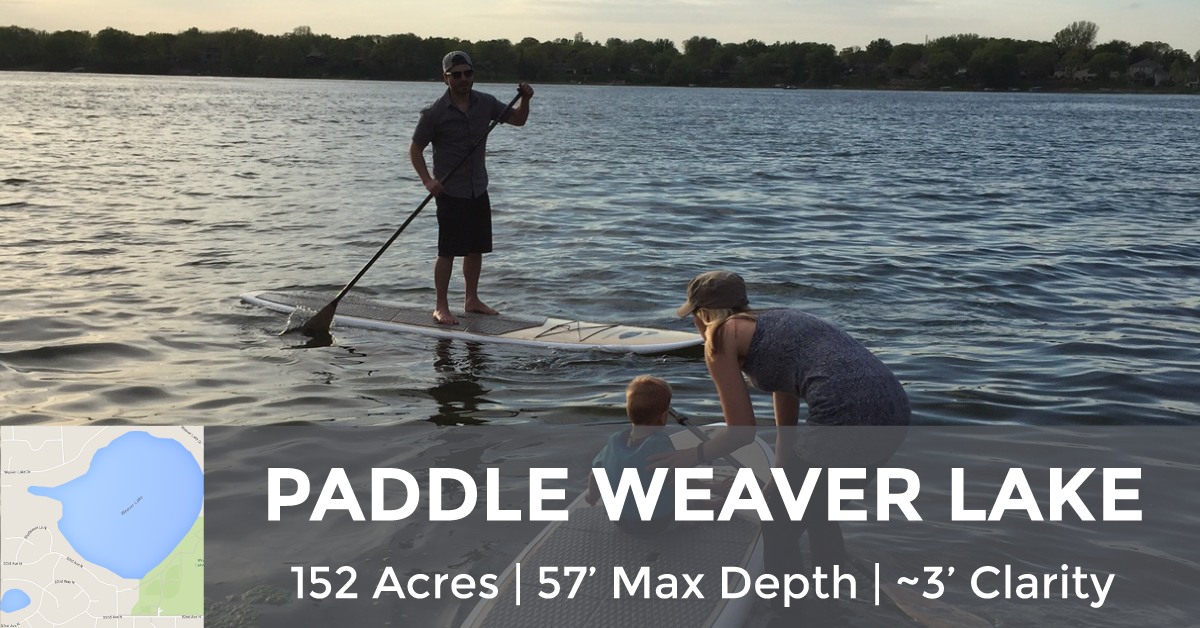 The paddlers: 
Lake facts: 152 Acres, Maximum Depth 57', Water Clarity ~3 ft.
Getting in the water:
We launched from the beach, which had a good 50-60 yard walk from the parking lot to the water. If I were to do it over again, I'd probably launch from the boat landing and paddle over to the beach to avoid the windy walk.
The Paddle:
The group kicked off by doing tandem/parent kid rides around the beach. We had many parents (and kids) on a SUP for the first time. My nearly-two year old, Tyler was one of the first timers. He loved it, sat relatively still and the Loon XL model had plenty of volume to support both him and my wife. While the weather was above 90 degrees, the water still had some bite. After Tyler got a little paddle splash, he did his sign for all done (basically jazz hands) and we brought him back to shore.  Overall, the tandem rides went smooth – no falls in the water for the first timers and the kids really enjoyed it.
After the party packed up and left, I stayed late to see make one full loop of all 152 acres. Hugging the shore pretty close, I made it around all of Weaver in under 30-35 minutes. It felt good to activate the paddling muscles again -- I could tell that my back and core have not been as active this winter. The wind calmed down a lot around 7:30, which made the water very glass-like and seemed to increase its clarity slightly. The lake appeared to be full of fish – I counted 4 different fish jumping pretty close to my board and noted 5 different fishing boats sharing the lake. While I didn't bring my rod, this would be a killer lake to SUP-fish on.
Noise pollution was very minimal for a suburb of Minneapolis. You can still hear a slight buzz from the nearby highway, but it still feels very much like an "escape" to nature. The one downside was the muck and weeds which brought the water clarity level down (on the plus side, none of the weeds got hung up in the fins or slowed the paddle at all).
Stand with us:
At Paddle North, we offer free demos of our boards -- on any lake in the Twin Cities. If you want to try out a paddle board on Weaver Lake, or a lake near you, give me a call 612-978-5992 or email me at peter@paddlenorth.com.
-Pete
#LiveLifeBalanced